How Long Does it Take to Build a Custom Home?
November 14, 2023
So, you're all set to dive into the exciting adventure of building your dream custom home. However, like most homeowners, you're probably wondering just how long this journey is going to take. We totally get it! At Meg & Co, we're here to help you move into your new home as quickly as possible, all while maintaining top-notch quality. It's like a race to your dream house, minus the shortcuts.
The Power of Collaboration
One of our secret weapons for speeding up the home-building process is collaboration. We've assembled an exceptional building team and an awesome crew of drafters and architects right here in our office, ready to work their magic. This means that if you need to make adjustments or "rearrange" aspects of your home, it gets done in a matter of minutes or days, not weeks of frustrating back-and-forth emails.
Whether you decide to tweak the layout, modify room sizes, or make any other changes, our team is equipped to respond swiftly. The best part? This approach not only saves time but also ensures that your home is designed exactly the way you want it.
Comprehensive Support from Start to Finish
Building a home is like navigating a maze of decisions and let's be real, oftentimes that can really slow down the entire process. At Meg & Co., our services extend far beyond construction. We offer comprehensive support, including:
Floor Plans: Our team can help you create floor plans that align perfectly with your lifestyle and preferences.
Budgeting: We work with you to establish a realistic budget and ensure that your building project stays on track.
Selections and Finishes: We assist you in the planning process from paint colors to countertops, ensuring that your home reflects your style. With our in-house showroom, you can see most, if not all, selections and finishes in real time!
Sourcing: We have an extensive network of trusted suppliers, making it easy to find the perfect building materials for your project.
Ordering and Tracking: We handle all the logistics, from ordering materials to tracking deliveries, and take proactive steps by ordering materials in advance to minimize price fluctuations and potential construction delays.
Storage: We store your selections and materials until ready for installation, freeing up space and minimizing clutter during construction.
By offering a one-stop solution for all your homebuilding needs, we simplify the process and ensure that everything runs smoothly and efficiently.
So… How Long Will it Take to Build my Custom Home?
We get it, you want an exact timeline. Although we employ every means available to ensure a swift building process (without sacrificing quality) custom home building still takes time.
The duration of the construction process can vary significantly based on factors like the size of your home and the complexity of its finishes. Our approach involves having the design fully completed before breaking ground, meaning you'll have a great idea early on when you can expect to move in.
Homes ranging from 3,000 to 4,000 square feet have a typical building timeline of ten months.
For larger 5,000-square-foot homes, it's wise to plan for an average time period of around a year.
For those sprawling homes exceeding 6,000 square feet, which oftentimes include more intricate details and installations in the construction project, expect eighteen months or more, depending on the specific size and complexity.
(Please note that these timelines do not include garage square footage.)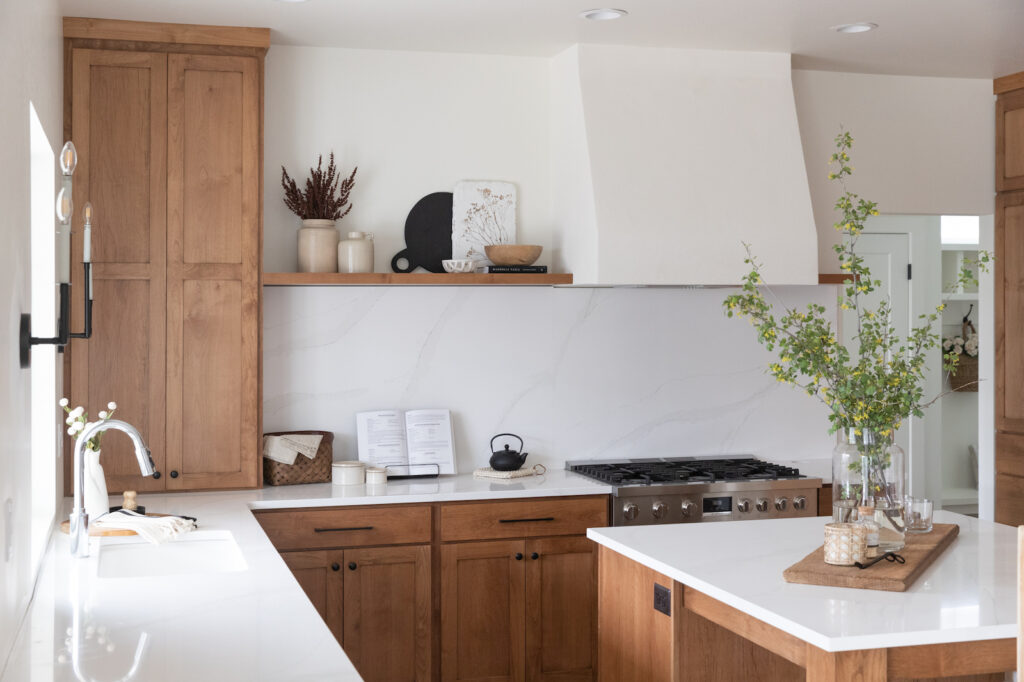 Your Custom Home
We are at the forefront of combining expertise and efficiency, ensuring that your home is built as quickly as possible, but, even more importantly, that it's built to last. At Meg & Co., quality and craftsmanship are our trademarks, and we truly believe that the time spent on your custom home is an investment in creating your perfect living space for years to come.
How Long Does it Take to Build a Custom Home?
5 of the Most Impactful Upgrades for Your Home Remodel
Inside The Hayden: Where Craftsmanship and Creativity Merge
Our Favorite Flooring for Your Custom Home